Given the amount at stake, Lord's seemed surprisingly subdued as the final day's play began. Maybe this was just in keeping with the gentility of cricket, in contrast to the unrelenting passion (and quite often aggression) of football crowds. However, it may also have been because England, despite chasing a feasible target of 319 to win, had no reliable run-scorer to call upon.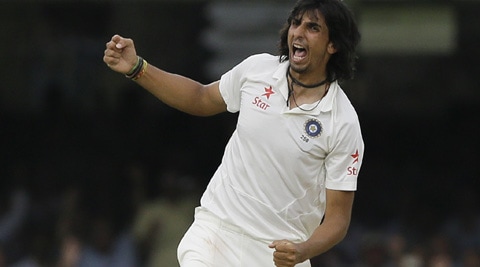 India's bowling line-up was spearheaded by the impressive Ishant Sharma, and he was ultimately an instrumental figure in England's destruction. The hosts' best chance of victory lay with the inexperienced Joe Root. While initially tentative, both he and Moeen Ali became more comfortable at the crease and began to bring the run-rate up with sensible shot-making. However, once Ali was dismissed by Sharma, who claimed career-best figures for an Indian in England (7-74), it set the tone for what was to ultimately be another batting collapse. Cavalier shot-making seemed to be the order of the day and after Ali's untimely dismissal, Matt Prior and Ben Stokes fell playing aggressive pull shots after taking on the short ball, a tactic which Sharma deployed to devastating effect. England's ineptitude was staggering and the youthful Root must have been wondering if he could rely on any of his team-mates. However, the Yorkshire man also succumbed to some rash decision-making and with that, the chances of an England victory had disappeared.
The large Indian following scented blood, and they were celebrating jubilantly shortly after, as Stuart Broad was caught out, with the ball glancing off his glove and snaffled up by captain Mahendra Singh Dhoni. England's final dismissal exemplified their capitulation, as poor communication left Jimmy Anderson stranded. A desperate lung towards his stumps proved in vain as he was run out by Ravindra Jadeja, whose clash with Anderson at Trent Bridge is currently the subject of an inquiry by the ICC. As the Barmy Army trudged away disconsolate, chants of 'Oooh Ravi Jadeja' and '1-0 to the Indians' reverberated around the Home of Cricket from the vociferous travelling faithful.
England's display yesterday was symptomatic of their play in recent months. With an opportunity to press home their advantage, they were, at one stage, on 173-4, needing fewer than 150 runs to win and firmly in the driving seat. However, they only made 50 more runs for the loss of their remaining six wickets, and it is difficult to see how England can get out of their psychological rut in time for the next Test at the Rose Bowl. The manner of the defeat puts more pressure on under-fire captain Alastair Cook, with calls for him to go from the likes of Michael Vaughan and Geoffrey Boycott. While sacking Cook might seem attractive given another insipid batting display, there is nobody with sufficient experience who looks ready to take on the challenges and pressures that come with being England captain.
Alex Bowmer
Featured image: The Express